Map of LESVOS
At the moment our volunteer program has paused due to safety issues on the island. Please check back for updates on the situation.
For now you can plan ahead for service.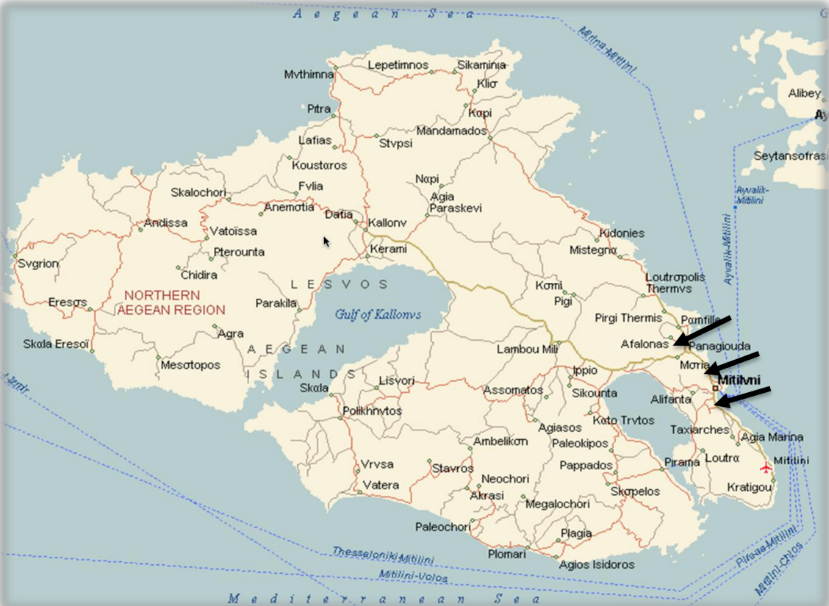 Refugee Camps on Lesvos
Moria: 8.5 km north of the Mytilene, the capital.   Kara Tepe:  5 km. south of Moria.    Pikpa:  2.2 km south of Mytilene
The following organizations have offices in Mytilene, the capital:  HIAS, Drop in the Ocean, Mosaic. 
Light without Borders is located in a secure office on the perimeter of Moria Camp.  Refugee for Refugees operates a warehouse near Moria Camp.
One Happy Family Community Center is located 4.9 km. north of Mytilene, a 10-minute walk from Kara Tepe camp.  Doc Mobile and Sport for Refugees offer refugee support and activities at this center. 
Lesvos Solidarity manages Pikpa camp.
Starfish Foundation is headquartered on the northern coast of the island in Molyvos but much of the work that a volunteer would be doing will take place in Mitilene.
Summary of NGOs' requested time commitments
10 days minimum
There are three NGOs that accept volunteers for a minimum of 10 days.  They are A Drop in the Ocean, Showers for Sisters and Refugee for Refugees.  Volunteers interested in short term volunteer assignments can submit their applications on line for these positions.  
1 month minimum
Sport for Refugees requires a one-month commitment and is interested in flexible RPCVs with an interest in sports.  Volunteers can submit their applications on line.
HIAS also requires a one-month commitment but prefers a volunteer that can stay longer.  They do not have an on-line process and they are looking for a specific skill set. 
Light without Borders will accept an Optometrist or Ophthalmologist for one month but prefers longer for the other positions.  There is no on-line application process. Interested individuals will need to send a resume to the organization.
2 months minimum, preferably 3 months
One Happy Family, Lesvos Solidarity, Doc Mobile and Light Without Borders will accept volunteers for two months but their preference is for volunteers that can stay for 3 months.  One Happy Family and Lesvos Solidarity both have online applications.  The other two require a cover letter and resume be sent to their email addresses.
A Drop in the Ocean is also seeking volunteers with a longer time frame for positions on the management team.  Assistance with housing is a possibility for people that stay for a longer period.  
3 months minimum
Starfish Foundation requests a volunteer with special skills. Interested individuals must send a letter of interest which includes a commitment to 3 months of service and a resume to the Founder and Director of the organization.