Katie Curtis works for the Georgia Department of Public Health as an Outbreak Response Planner. She served in the Peace Corps in Senegal 2013-2015.
(Photo taken in Senegal during her service.)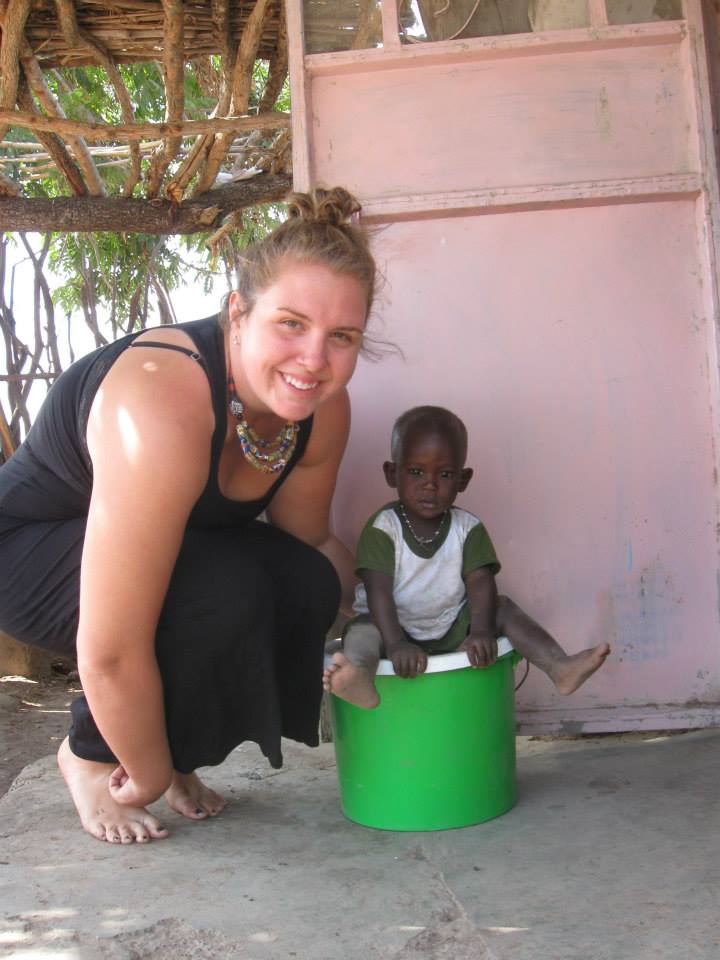 "I found the skills I had gained in Senegal made me well suited to working with refugees, and I enjoyed being able to welcome someone to my country the way Senegalese people had welcomed me," says returned Peace Corps volunteer Katie Curtis.
She enjoys mentoring so much that she is on her third family match through the Lutheran Services of Georgia resettlement agency since returning from West Africa two years ago.
"When I first came back from Senegal, I moved to Atlanta for grad school and was looking for a way to get to know the city and the people in it better. I also really missed interacting with a different culture. And of course, with the world facing the greatest refugee crisis in history, it seemed like a great time to do what I could to help this population."
Katie first worked with a family from Burundi for a year, then with a family from Central African Republic for a few months, before they moved to another state.
Recently, she met her third match – a Syrian family of 10, with kids aged one – 14. After war drove them from their home in Aleppo, they spent four years in a refugee camp in Jordan before coming to the U.S. last year.
Katie aims to help the families acclimate to America through assisting them with English, public transportation, and understanding small everyday things like homework or filling out forms. She has found that "it's helpful to arrive at a family's home with an activity in mind – a book, coloring, a game, a field trip – just something to get the ball rolling! Beyond that, just being patient and flexible are the most important things."
So that the families can attain independence as soon as possible, Katie recommends finding long-term solutions. For example, instead of offering a ride, offer to teach them about public transportation.
Mentorship is not without challenges, she says. "Sometimes communicating is very difficult! As a RPCV, language barriers are nothing new, but having no common language can be very difficult."
Once, however, she got lucky with her Central African Republic family, who spoke the same language, Pulaar, that she learned in Senegal. After unsuccessfully trying a few greetings that drew blank stares, one day when she was helping one of the kids with his homework, she said the Pulaar word for cow in her Senegalese dialect. He lit up, and they soon found many words in common.
"It was incredible to be able to use this obscure language in Atlanta, especially to be able to help people with it."
Another challenge is seeing the hardships these families deal with on a daily basis and knowing that she can't always help. "Just things like needing someone to watch their kids or not having a ride to work – it's tough not to always have a consistent solution to their challenges."
Katie's overarching goal is simple:
"I think the true value of volunteering with refugee families (especially in the current political climate) is showing them that they are welcome in America and that there are people here who care about them on a personal level."
Mentorship is about just that -- caring human relationships – and Katie feels rewarded with happy moments when she arrives at her family's apartment.
"It's such a joy to see neighbor kids from literally all over the world, many of whom have gone through some terrible things, playing together. I also really love showing up to visit and not knowing what to expect – there's always something new and fun going on in the apartment or the neighborhood."
Serving in the Peace Corps isn't the only thing that has prepared Katie well for mentoring refugees. She grew up in Dallas, where migration issues were often at the forefront of political discussion. "Dallas taught me a lot about the richness that other countries brought to the U.S.," she says. In college, she studied political science and anthropology and became interested in social justice and immigrant and refugee issues.
In Atlanta, she found a unique program run by RPCVs at Emory Rollins School of Public Health that connects students with refugee volunteer opportunities. It also has bi-monthly classes about the refugee resettlement process and how to be effective volunteers. And she has had a great experience working with Lutheran Services of Georgia. "I truly appreciate the hard work they do for refugees and others in need in Georgia!"
Have you mentored any refugees? We'd love to hear your experience on our Facebook page.