Laurette Bennhold-Samaan returned home recently from a month of volunteering with refugees on the Greek island of Samos. She shares reflections on her experience in the following excerpts from her personal blog.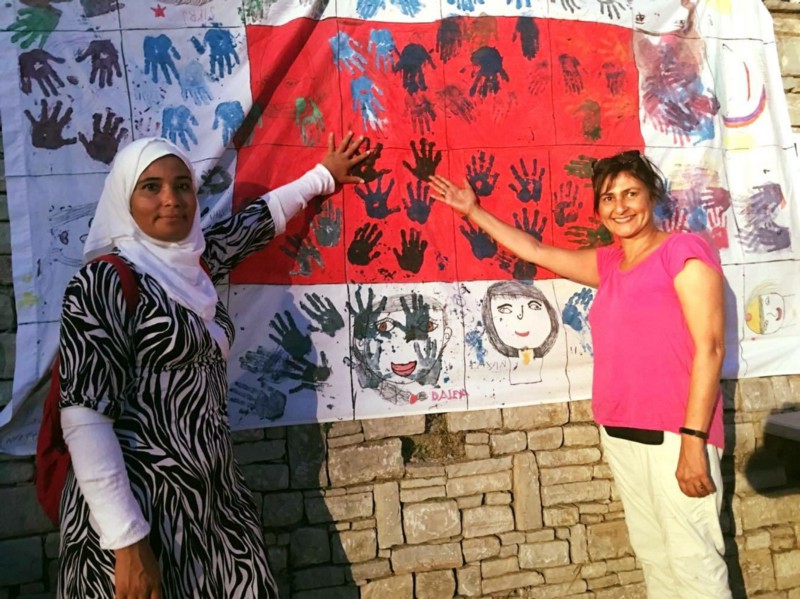 "When I sit and reflect as to what contribution am I REALLY making, it's not something grand at all. It's the conversations, the human interactions and being the listening ear. It's being open to receiving a hug from a child or giving a nod and warm smile to some of the adults. It's reassuring them they are safe for now and that others in the world do care and they are not alone."
" Samos Volunteers have current long-term refugees with good command of English as Community Liaisons who work closely with us on a daily basis. They translate for us linguistically and culturally. They are involved in every single project."
"They were asked what has been the hardest part of their journey and their answers ranged from making the decision to actually attempt the life-threatening trip, leaving family unexpectedly, loss of faith in public organizations to total lack of control and certainty about their future."
"The activities we provide, while very basic in nature (language lessons, arts and crafts, music, fitness) all serve a much deeper level. They help bring normalcy to the refugees' lives. These activities are intended to help restore dignity and respect, create a social network, develop skills for the future, and give them a sense of identity."
"Not everyone comes to our activities, and I'm sure many are depressed, anxious, extremely stressed and feel helpless. I can see some of this in their eyes when we serve them tea daily. We were given a training session to look out for changes in mood, lack of interest, poor concentration, PTSD symptoms, self-harm or suicidal thinking. There was a mom a few days ago who tried to commit suicide, we heard."
"Here is a list of things I won't miss and what I will miss!
10 things I won't miss:
Kids fighting

Washing my clothes in the shower

Spotty internet

Trash bins next to the toilet

Way too narrow roads for me to drive

Driving for 20 min up hills in first gear

Cigarette smoke

The look of desperation

Barbed wire around the refugee camp

The living conditions
10 things I'll miss:
The refugees, especially the kids

The smiles and conversations with adult refugees

Constant appreciation for all that I have

Conversing about the state of refugee affairs globally

The sense of helping, however small

Poster-like views of the ocean and sunsets

Olives, baklava, dolmades, stuffed peppers, gyros …

New friends from all over the world

Short-term meaningful purpose

Experiencing immediate individual impact albeit small
"There are those who have gotten asylum status which means they go to Athens and then on to another EU country. Some get jobs immediately and others start the job search. You can barely imagine the immense relief and joy when they learn they have been granted a safe country to legally reside in. This gentleman below got all of his papers plus an amazing job in Athens!"
"I have no doubt that this experience will stay with me forever. One can never "go back" from such an intense experience without being changed in some way. I will need to figure out how, and which parts to incorporate into my life.
Do I want to go home? No, not yet….but then I pause… I am so fortunate to have a "home" and to be able to go back. Refugees do not."
Note: The Samos refugee camp is funded by the United Nations Refugee Agency and Samaritan's Purse. Samos Volunteers is a privately funded organization working with partners on the island. Some volunteers stay for a month, most much longer, and most are returnees. Some come with their parents or their kids. Many are in their 20s and 30s, but there are some older volunteers, like me. -- Laurette
Read about the early days of Laurette's adventure in our blog post of June 19, 2017.
To read her blog in its entirety, go to: https://medium.com/@laurettebennhold/laurette-bennhold-samaan-in-samos-greece-working-with-refugees-3ea5c56da27e
Laurette Bennhold-Samaan was a cross-cultural specialist with the Peace Corps in Washington, D.C., 1994-2001.