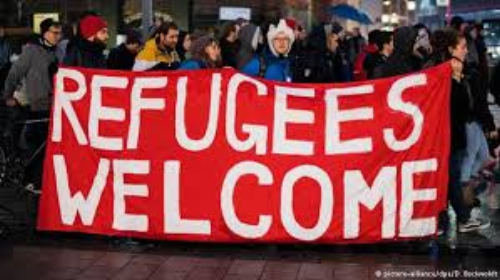 Trump administration to set ceiling soon
It's not too late to join an urgent appeal to President Trump to allow 75,000 refugees to come to the U.S. in 2018. A Presidential Directive setting a ceiling on how many refugees can be resettled is expected sometime soon. Concerned refugee organizations doubt it will contain good news, so they are appealing to refugee supporters to act now.
How?
Contact your local and state elected officials
Urge them to sign on to a letter to the President urging him to allow at least 75,000 refugees to be resettled. Nearly 200 mayors, state representatives and others in 31 states submitted the letter on September 28, but new signatories are still being accepted.
For more information, email Ryan Mace rmace@lirs.org or Elizabeth Foydel efoydel@refugeerights.org. Elected officials interested in adding their signature and supporting refugees can contact DC@LIRS.org.
To read the letter and its list of signatories, go to either www.lirs.org, the Lutheran Immigration and Refugee Service website, or www.refugees.org, website of USCRI (U.S. Committee for Refugees and Immigrants).
If you see one of your elected officials listed, thank them on social media, or promote the letter using the hashtag #Welcome75K.
Write your representatives in Congress
Ask them to encourage the Trump administration to welcome at least 75,000 refugees in Fiscal Year 2018. Before each fiscal year, the President must consult with Congress on the issue. The ceiling President Trump sets will serve as a goal for the government and refugee resettlement agencies for the coming year.
To see a sample letter suggested by HIAS, the Jewish refugee agency, go to www.hias.org.
The refugee resettlement program remains halted, except for refugees with "bona fide" relationships to the U.S. In his executive order, President Trump lowered the ceiling of 110,000 set by former President Obama to just 50,000, the lowest refugee ceiling in over three decades.
HIAS, LIRS and USCRI are all partners of ours in collaborations under which they welcome returned Peace Corps volunteers to work with refugees resettled by their local affiliates.
Contact Refugee Council USA
As a coalition of 25 non-governmental refugee support organizations, RCUSA speaks with a strong voice in advocating for the 75,000 ceiling. Read their August 20th statement at www.rcusa.org. It begins,
"RCUSA urges that in fiscal year 2018, the Presidential Determination (PD) be at least 75,000 refugees. The UN Refugee Agency, UNHCR, currently estimates that nearly 1.2 million refugees in vulnerable and dangerous situations around the world will need to be resettled to a third country in the coming year.
"In the midst of the worst global displacement crisis in history with more than 22.5 million refugees worldwide, it would be inhumane and an abdication of U.S. leadership to resettle fewer than 75,000 refugees next year. U.S. refugee resettlement is a life-saving public-private partnership that must continue."