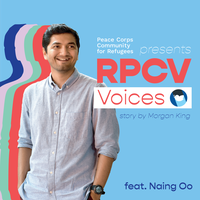 RPCV Voices is a new blog series on the Peace Corps Community for Refugees website. The purpose is to allow returned Peace Corps Volunteers the opportunity to share their experience as refugees, work with refugee communities, or opinions about the refugee crisis. If you have a story to share, please email morganking296@gmail.com.
---
Naing Oo arrived in the United States from Myanmar, the country formerly known as Burma, as a political asylee in 2003. A decade later, in October 2013, Oo was sworn in as a Peace Corps Community Economic Development Volunteer in Burkina Faso.
His journey from extremist-plagued Yangon, Myanmar to the suburbs of Atlanta, Georgia to a rural community in Burkina Faso is remarkable. A friend of his shared that Oo "was born into a world where a child becomes a man far too soon because this is what is required to survive" but at the same time Oo "grew up surrounded by love."
In 2000, Oo's father, a marine engineer and political activist, fled Burma to seek asylum in the United States. For the following three years, his father worked to bring his family to the U.S. too. Oo, his mother, and siblings were eventually reunited with their father at Atlanta's Hartsfield-Jackson International Airport in 2003. The family was formally recognized as refugees seeking resettlement; despite their accomplishments and full lives in Burma, they had to start over in a foreign land where they didn't know a soul.
Oo's family committed to creating a stable life in Clarkston, Georgia ("the most diverse square mile in America") which resulted in Oo attending a private high school, getting a degree from Berry College, and being voted Mr. Berry due to his natural charisma. He joined the Peace Corps in Burkina Faso after college, stating:
"I always knew my purpose was to serve for the better of others, which is what led me to the Peace Corps and my bubble was busted. I was in a village with [an] 800 [person] population, no electricity, no running water, [and the] poverty level was so high that Burkina Faso is the poorest country listed in the Peace Corps."
However, given his childhood in Burma, Oo felt he had an advantage entering the Peace Corps. He reflected that "you'[d] be surprised how similar cultures from Southeast Asia and West Africa are. For example, as much as my American side wanted me to get in the fields and get projects going, my Burmese side made sure I spend multiple hours drinking tea with my community to gain their trust." Complementing his Burmese roots and influence, Oo also found himself using his learned "Americanness" to educate his community. He shared an example:
"In my village, only women and children go to the village well for water. I was told that it is the duty of women. So I used the opportunity as culture exchange to show that, even though I am a man, I too can go to the well and get water when I can so that my community knows in America "we try our best" to not have roles for women and men and both are treated "equally"."
Oo completed his Peace Corps service and returned to the United States in 2015. He has now had several years experience working with the International Rescue Committee in Atlanta and various nonprofits in New York City. Looking forward, Oo "would love nothing more" than to pursue "a role with the State Department or Peace Corps as the training manager or program director in Myanmar. I love and thrive when I am working with people to come up with ways to work together."
Oo's life has changed dramatically from that 2003 flight to Atlanta where the 11-year-old Naing hid his family's asylum case notes in his backpack. Now a returned Peace Corps Volunteer and dedicated community advocate, Oo shares his message of "working hard to get where you want to be, but once you make it to the top, send the elevator back down."
Sources:
https://bittersoutherner.com/the-souths-ellis-island-clarkston-georgia-refugees
http://whatbringsyouhope.blogspot.com/2018/09/full-circle.html
https://www.linkedin.com/in/naing-oo-3029895b/
Email exchange with Naing Oo
---